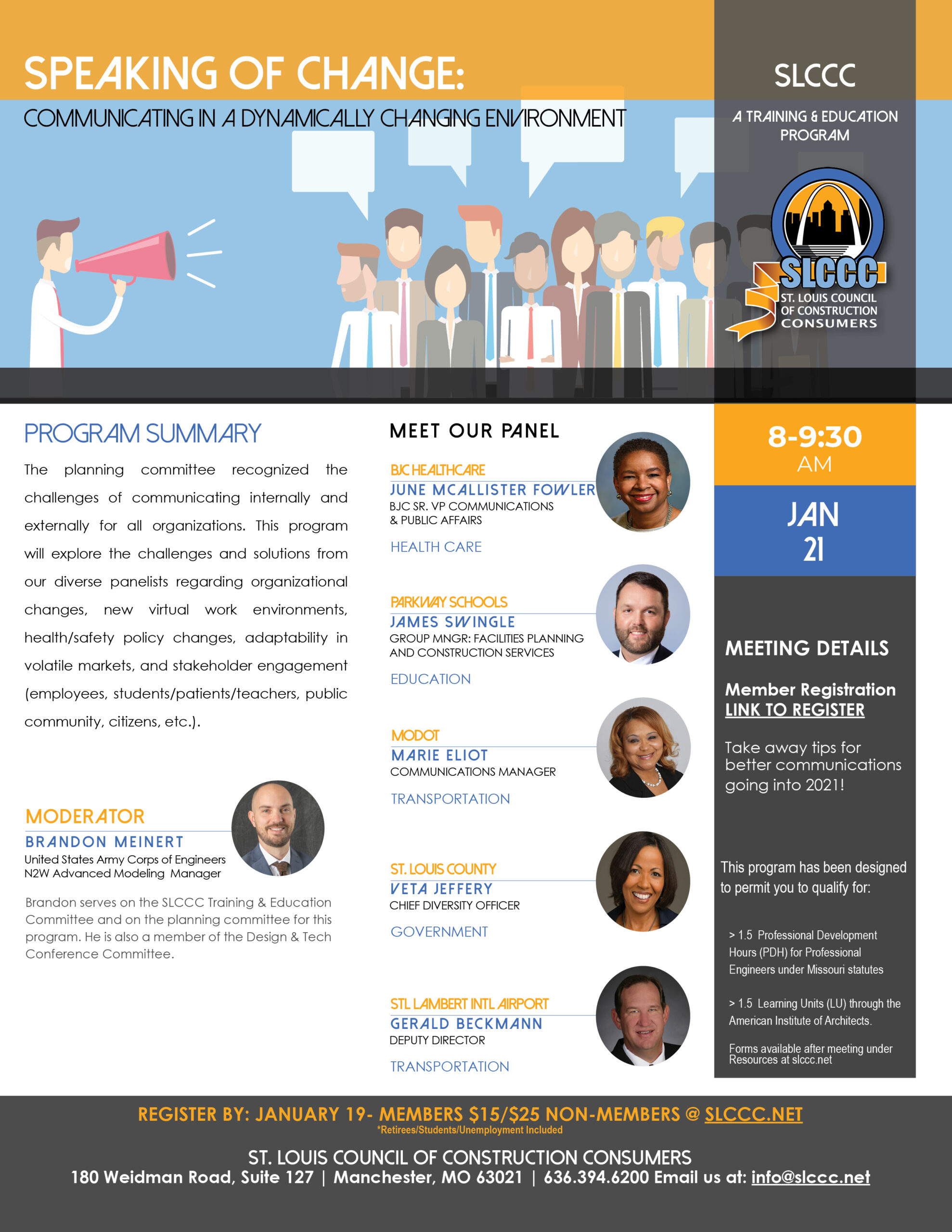 Speaking of Change: Communicating in Dynamically Changing Environments Virtual Program
January 21 @ 8:00 am

-

9:30 am

|

Free – $25
The planning committee recognized the challenges of communicating internally and externally for all organizations. This program will explore the challenges and solutions from our diverse panelists regarding organizational changes, new virtual work environments, health/safety policy changes, adaptability in volatile markets, and stakeholder engagement (employees, students/patients/teachers, public community, citizens, etc.).
Our Speaker Panel:
Moderator: Brandon Meinert, Army Corps of Engineers
Healthcare Panelist: June McAllister Fowler, BJC Sr. VP Communications, Marketing and Public Affairs
Education Panelist: James Swingle, Parkway Schools
Civic/Government Panelist: Veta Jeffery, St. Louis County
Transportation Panelist: Gerald Beckmann, STL Lambert International Airport and Marie Elliott, MoDOT
(Note: Your Zoom information will be sent to you via email just before the event.  Check your email for this information.) 
Bios on our Speakers:
Veta Jefferies – Chief Diversity Officer
Flyer Content for Bio's
Empowering Executive Director with a unique background including success in private and public companies, state and national public initiatives, elected office in a local municipality for six (6) years and entrepreneur owning a business.
James Swingle – Group Manager: Facilities Planning and Construction Services
James graduated in 2001 from Missouri University of Science and Technology with a degree in civil engineering.  After college he served 4 years on active duty with the U.S. Army as an officer with the 1st Cavalry Division, where is unit was deployed on a year-long tour (2004-2005) rebuilding the Baghdad, Iraq slum know as Sadr City.  After leaving active duty in 2005, he was hired as a Construction Project Manager with Sachs Electric Company.  As an electrical sub-contractor, he has been a part of a wide range of both commercial and industrial projects, helping manage electrical construction on such projects as the New Casino Queen land-based entertainment facility to the Ameren Sulfur Scrubbers at Sioux Energy Center.  In 2012, he made the transition to Parkway School District, where his group manages all phases of capital construction projects for the District.
June McAllister Fowler – BJC HealthCare – Senior Vice President: Communications, Marketing and Public Affairs
As senior vice president of communications, marketing and public affairs, June McAllister Fowler leads internal, external and public policy communications and government and community relations efforts on behalf of BJC HealthCare, one of the largest nonprofit health care organizations in the United States and one of the largest private employers in the state of Missouri. She has responsibility for multiple areas, including media relations, executive communications, community benefit, community affairs, government and external relations, health literacy, corporate marketing, creative services, web development, media services and the award-winning employee newspaper, BJC Today.Prior to joining BJC, Fowler was senior director of communications and community affairs for Mallinckrodt. She began her career as an urban planner with St. Louis County government, ultimately serving as director of the Department of Planning. Fowler earned her master's degree in urban affairs from Washington University in St. Louis. She completed her bachelor's degree at the University of Missouri–Columbia. Fowler has been an active volunteer throughout the region for many years. She currently serves as the board chair of Citizens for Modern Transit and is on the boards of Lambert St. Louis International Airport, The Muny, the Cortex Innovation Community and KIPP St. Louis. She also serves as a member of UMB Bank's St. Louis Advisory Board, Washington University Public Affairs National Council and the Health Care Industry Council of the Federal Reserve Bank of St. Louis. Fowler is a past chair of the Girl Scout Council of Greater St. Louis and the Metropolitan Association for Philanthropy. Fowler teaches Sunday school classes and directs the children's services at her church. Fowler has received a number of awards in recognition of her leadership and service. She received the 1999 St. Louis Suburban Journals and KMOX Radio's Women of Achievement Award, the 2000 Corporate Citizen Award from the St. Louis Business Journal, the 2001 Coro Community Leadership Award and the 2002 National Eagle Leadership Institute Award. In 2004, Fowler was inducted into the YWCA of Metro St. Louis Academy of Leaders, in 2005 was named one of the Most Influential Minority Business Leaders by the St. Louis Business Journal, and in 2010 was named Corporate Executive of the Year by The St. Louis American newspaper. In 2012 she received the Distinguished Arts & Sciences Alumni award from the University of Missouri – Columbia. In 2018 she received the Greater Missouri Leadership Challenge Inspirational Leader Award, was recognized by Ingram's as one of the 50 Missourians to Know; and received the Professional and Community Achievement Award from Healthcare Businesswomen's Association. A native of St. Louis, Fowler and her husband live in west St. Louis City. They have three adult children. 
Marie Elliott – MoDOT – Communications Manager
Marie Elliott is communications manager for MoDOT's St. Louis district. The district includes the City of St. Louis, St. Charles, Jefferson, Franklin, and St. Louis counties. She leads a team of communications and outreach professionals. She joined MoDOT in 2007 and is responsible for external communications, media, and community relations. Marie's love of words guided her to a career of more than 30 years in various facets of communications, including newspaper reporter, nonprofit and government communications, and adjunct lecturer. She earned a master's degree in media communication from Webster University and a journalism degree from the University of Mississippi.
Gerald Beckmann- St. Louis Lambert International Airport Deputy Director
Jerry Beckmann has been the Deputy Director for Planning & Development at St. Louis Lambert International Airport since 2013. He manages Engineering, Planning, Information Technology, and Environmental/Safety departments.  Beckmann is responsible for the planning, contracting and execution of all construction projects at Lambert while also coordinating long-range master plan goals for all airfield and airport properties. Mr. Beckmann holds a Bachelor's in Civil Engineering (University of Missouri-Rolla, 1987) and a Masters of Business Administration (University of Missouri-St. Louis, 1994).  He became a registered Professional Engineer in 1993.