So what is the St. Louis Council of Construction Consumers (SLC3)?
The quick answer is that we are are a Construction Trade Association serving the St. Louis Bi-State region.  We are one of 34 Local User Councils in the United States. Founded in 1971, we were the second LUC to be formed. Local User Councils are Owner or "Consumer" led organizations. Buyers of Design and Construction are the foundation and the leadership of the SLC3.
But, with that said today we are an All-Inclusive AEC Community for Innovation, Continuing Education, Equity Empowerment, and Workforce Collaboration.  In addition to the "Owners" or consumers of design and construction services, we offer associate membership. This includes architects, engineers, contractors, construction managers, legal, labor organizations, financial, marketing, information technology and more. We are truly the ONLY organization which brings the entire community under one "roof." Our focus is to better our region addressing continuing education, bringing innovative technology and processes for better project management, focusing and diversity, equity and inclusion challenges and contributing to empowering change, and of course we MUST all collaborate in order to improve obstacles, processes, health and safety, and our region. We are inclusive of any company or organization interested in the design and construction industry and providing a service or product and to any organization that builds, maintains, renovates or needs consulting services in the AEC industry.
Our Mission
Building a better future by uniting the greater St. Louis region's design and construction community in achieving innovation, offering advanced education, equity empowerment, and fostering collaboration among all stakeholders.
Our Newest Owner "Consumers" Members
Missouri Botanical Garden
Our Newest Associate Members
ADL Communications, LLC
REN Engineering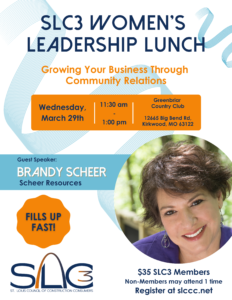 Greenbriar Hills Country Club, 12665 Big Bend Blvd, Kirkwood, MO 63122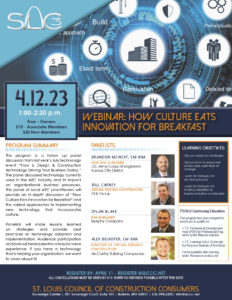 No event found!
SLC3 Membership
The membership of the SLC3 includes some of the largest construction consumers in the metropolitan area. Because of the size and volume of their construction activities, the Council is recognized as the voice of "Owners" in the St. Louis region. Thus, our voice and impact on construction industry practices is strong and influential. However, we are a community of all stakeholders! We welcome anyone doing business in the natural and built environment.  We are truly the ONLY association offering membership bringing together the AEC community in St. Louis and a seat at the table with decision makers! We have multiple levels of membership available – including one that fits your needs!
Owner Sustaining (Current: Ameren, Bayer, Boeing)
Owner Corporate (ex. Mercy, Mallinkrodt, Avison Young/Pace Properties)
Owner Public (ex. City of St Louis, St. Louis County, Hazelwood and Parkway SD)
Associate (Includes Services/Products to the Design and Construction Industry)
Emerging (M/W/DBE Firms in the first few years of formation only)
DBE (DBE Firms under $1.4 M in revenue)
Sole Proprietor Memberships Now Available!
We invite you and your company to become part of our important voice for construction consumers in the St. Louis region!
Contact Kelly Jackson today at 636-394-6200 about how to become a member!
Continuing Education
The SLC3 offers a variety of Continuing Education Programs to enhance your personal and professional development in the construction industry as well as promote CII Best Practices in your work.
Our Continuing Education Programs focus on building your personal knowledge and understanding of current construction trends and topics, including the 17 CII Best Practices. At the conclusion of most of our Education programs, participants have earned valuable Professional Development Hours (PDH) or Learning Units (LU) to advance their careers.
Our Continuing Education Programs are offered on a monthly basis at various locations in the St. Louis metropolitan area.
Contact Kelly Jackson to discuss becoming a Premium, Gold, or Silver Annual Program sponsor! See our annual education sponsorship section for our best sponsorship opportunities. THANK YOU TO OUR SPONSORS! Special mention to KOZENY WAGNER as our Platinum Sponsor!
Latest News
Kelly Jackson
Humans instinctively seek to avoid injury and pain.  Yet, we often behave [...]
Rebecca Hutchison
Lusnail Rondón Haberberger is the founder and CEO of LUZCO Technologies, LLC. [...]