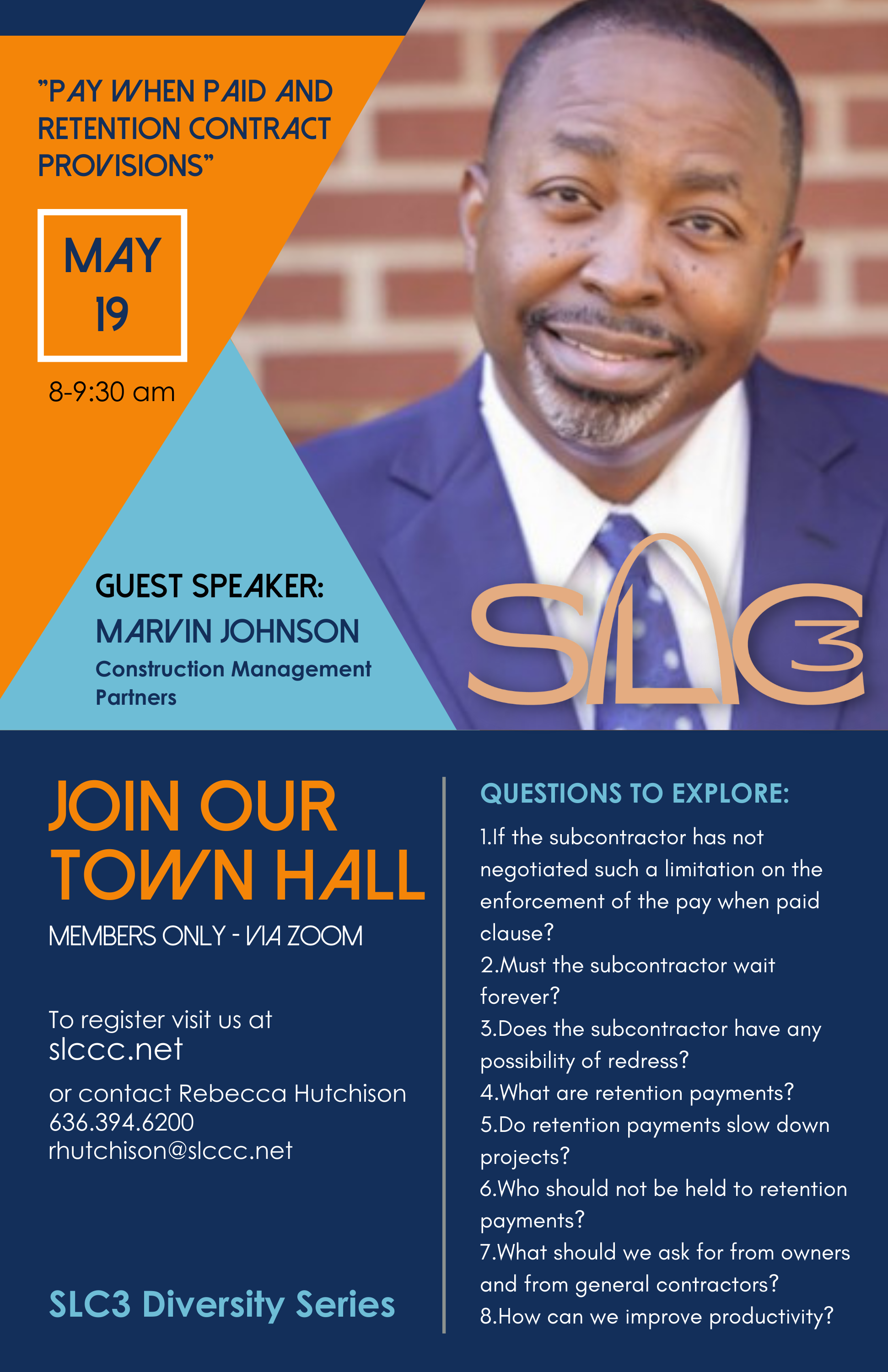 Virtual Diversity Series Town Hall: Pay When Paid And Retention Contract Provisions
SLC# 2022 Synopsis and Outline – Pay When Paid Contract Provisions
Diversity Series 5.19.22 Flyer (1)
Pay When Paid Clause and Retention Contract Provisions
When a general contractor inserts a conditional payment clause into its subcontracts, it inevitably does so because it is trying to condition its payment obligation to the subcontractor on the general contractor's receipt of payment from the owner. However, use of a pay-when-paid clause will not accomplish that goal. Courts often construe pay-when-paid clauses as effecting only the timing of payments to a subcontractor, rather than excuse an unpaid contractor from its payment obligation to its subcontractors.
Some questions we will explore:
If the subcontractor has not negotiated such a limitation on the enforcement of the pay when paid clause?
Must the subcontractor wait forever?
Does the subcontractor have any possibility of redress?
What are retention payments?
Do retention payments slow down projects?
Who should not be held to retention payments?
What should we ask for from owners and from general contractors?
How can we improve productivity?
Speaker Bio:
Marvin L. Johnson, CCA, CCP, NACA – Senior Member – Construction Management Partners, LLC
Marvin has amassed 36 years of construction project management experience. His Sr. Level Management, Operations and Construction Audit expertise has contributed to the placement of over $5 Billion of construction in the St. Louis metropolitan area and the surrounding Mid-West and South-East Regional markets.  Marvin currently serves as Senior Member of Construction Management Partners, LLC (CMP).  CMP is a professional consulting firm specializing in the areas of Project Management (Incl. Owner's Representative), Construction Audit and Advisory, and Diversity Program Management services.
Specialty markets include Healthcare, Higher Education, Corporate Facilities and Major League Sports.  Other Owner support services include specific project financial management and controls, project closeout/reconciliations, risk assessment and management strategies for selecting the proper delivery method, preconstruction-speed-to-market.  Marvin's core competencies include:
Recognized industry management level performer and advisor

Skilled presenter and subject-matter expert

Market intelligence related to relationship development.

Strategies for building a successful project team to achieve optimum project results

Team leader – Responsible for effective allocation and use of staff resources for client results-driven programs.

Highly skilled writer, speaker, and communicator – Proposals, project scope development, organizational
Documents and building critical mass.
Proficient and demonstrated project management skills that include all phases of design management, preconstruction, construction phase services and post construction. Schedule development, basis, logic initiation, scope and contract management, claims review, Pre-GMP, Final GMP review of terms and conditions.
Marvin's education includes – California Coast University, (Studied: Business Management), Amos Tuck School of Business Administration at Dartmouth (Business Management), Kellogg Graduate School of Management at Northwestern University (Business Management), John Cook School of Business at Saint Louis University (Supply Chain Management) and Meramec Community College, St. Louis, Missouri (Major: Architecture)
Professional Organizations, Recognitions and Affiliations
NACA Professional Standards Committee
CACCI Constriction Audit & Cost Control Institute
$Billion Dollar Impact Program – Inaugural Year 2012 BJC HealthCare
MOSHE – Missouri Society for Healthcare Engineering
ASHE – America Society for Healthcare Engineering
Missouri Hospital Association
National Society of Black Engineers
St. Louis Council of Construction Consumers
Signature Projects Include:
                     IU Health Campus Project
                     Grady Hospital West Tower Rebuild
                     BJC HealthCare Campus Renewal Project – Phase 1, 2, 3 & 4
                     St. Louis (Rams) Riverfront Stadium Complex – St. Louis, MO
                     Miami Dolphins Renovations and Retrofit – Miami, FL
                     St. Louis Cardinal New Ballpark – St. Louis, MO
                     Missouri Baptist Medical Center
                    Missouri Botanical Gardens – New Jack C. Taylor Visitors Center
                     Missouri University if Science & Technology
                     Missouri Botanical Gardens