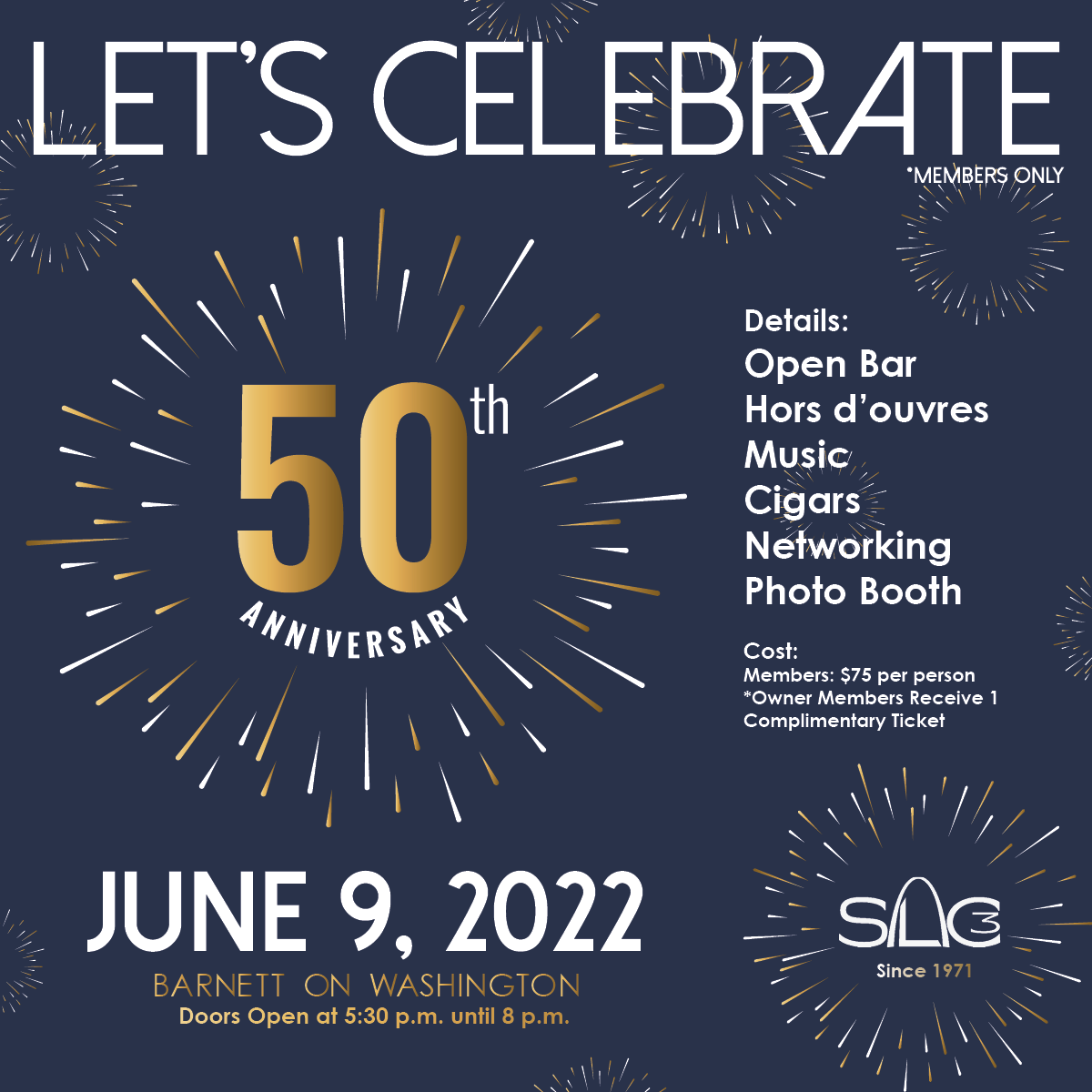 50th Anniversary Celebration Event – Members Only
We are celebrating our 50th Anniversary after postponing it due to Covid.  We are excited to honor our 50 years of leading the construction industry in the St. Louis region.  Join us as we honor the past, the present and the future of the SLC3! Many changes have occurred during these 50 years and we will honor those who've led us and celebrate the many accomplishments of the Council. This is a members only event but we do encourage all past retired members to join us for the member rate as well.  All past Board Chairs/Presidents are welcome as guests. And one member of each owner organization is also complimentary.
History:
As you may be aware, we were founded in 1971 by the largest construction users in town. This included Southwestern Bell, Anheuser Busch, Union Electric, Monsanto, McDonnell Douglas, Ralston Purina, Mallinckrodt, General Motors, Emerson Electric, Shell Oil etc. The construction users or owners came together to address the challenges in construction collaboratively.  I want to share what some of those issues were:
Collective Bargaining/Rising Labor Costs
Relationship with Trades
Contractual Provisions
Construction Codes
Workforce as it relates to shortage of craftsman and learn more about forecasts
Good Contractor Management (Best Practices)
Syphoned Minority Construction Workers
Ed Decker became the first Executive Director in 1971 until his death in 1973.  He spent a significant amount of time in his first year working on collective bargaining and labor strikes among others key areas listed earlier. In 1971, the labor disputes and rising costs were of great concern to the owners.  After Mr. Decker unexpectantly passed, Woody Zenfell filled his shoes from 1973 to 1992. Zenfell was the park engineer on the Arch before coming to the Council. In 1960 he was tasked with building the Gateway Arch.  At this time African Americans were denied entrance to the construction trades in St. Louis.  The Justice Department filed suit against the building trades council and five of its member unions. This led to the pipefitters starting a training program and electricians admitting their first 20 black journeyman and 12 black apprentices. After his work on the Arch, Mr. Zenfell joined the U.S. Labor Department as a senior official in charge of contract compliance. He went on to help break racial barriers in East St. Louis, Kansas City, Des Moines and across the country.  Zenfell fully supported equal rights in construction and continued to serve in this mindset for two decades as Executive Director.  Under Woody's tenure the SLCCC became the premier organization led by owners or consumers of construction and focused on key issues including education, collaboration on key issues of the time, diversity and inclusion, safety and workforce.
In 1992, Dennis Lavallee assumed the Executive Director role and served until his retirement in September 2018.  During this time, there were many owners serving on the Board as well as the Executive committee providing governance of the organization while Mr. Lavallee managed the day to day operations. Over this time every key issue of the day has been addressed and many changes in the way projects are built were implemented due to the Council's influence. Diversity remained as a top priority for the Council influencing more inclusive MBE/WBE/DBE programs as well as growth in recommendations for a more inclusive design and construction team.  Today, Mark Winschel (ASC Group/Four Fourteen) serves as the President of the Board. Kelly Jackson became the fourth Executive Director in September 2018 and nearing five years serving the members of the SLC3. In 2021, the Council rebranded changing its acronym and DBA from SLCCC to the SLC3.  Extensive strategic planning and branding was led by Kelly and with both owner and associate members.  The pillars were established and include: Innovation, Education, Equity Empowerment and Collaboration.  Not very different from our founder's vision and mission, but tweaked to fit the needs of today.
Event Activities:
Great Food and Open Bar
Photo Booth
Cigar Room
Music
Special Guests
Networking (Owners and Associates)
Pricing (Members ONLY). *Guests are welcome with a member at the member rate.
Special Member Rate – $75
(normally $95)
*Owner members receive 1 complimentary ticket – additional owner member tickets are $75/person
Barnett on Washington Address: 3207 Washington Ave, St. Louis, MO 63103
Speakers
Kelly Jackson (Exec. Director)

Mark Winschel (President)