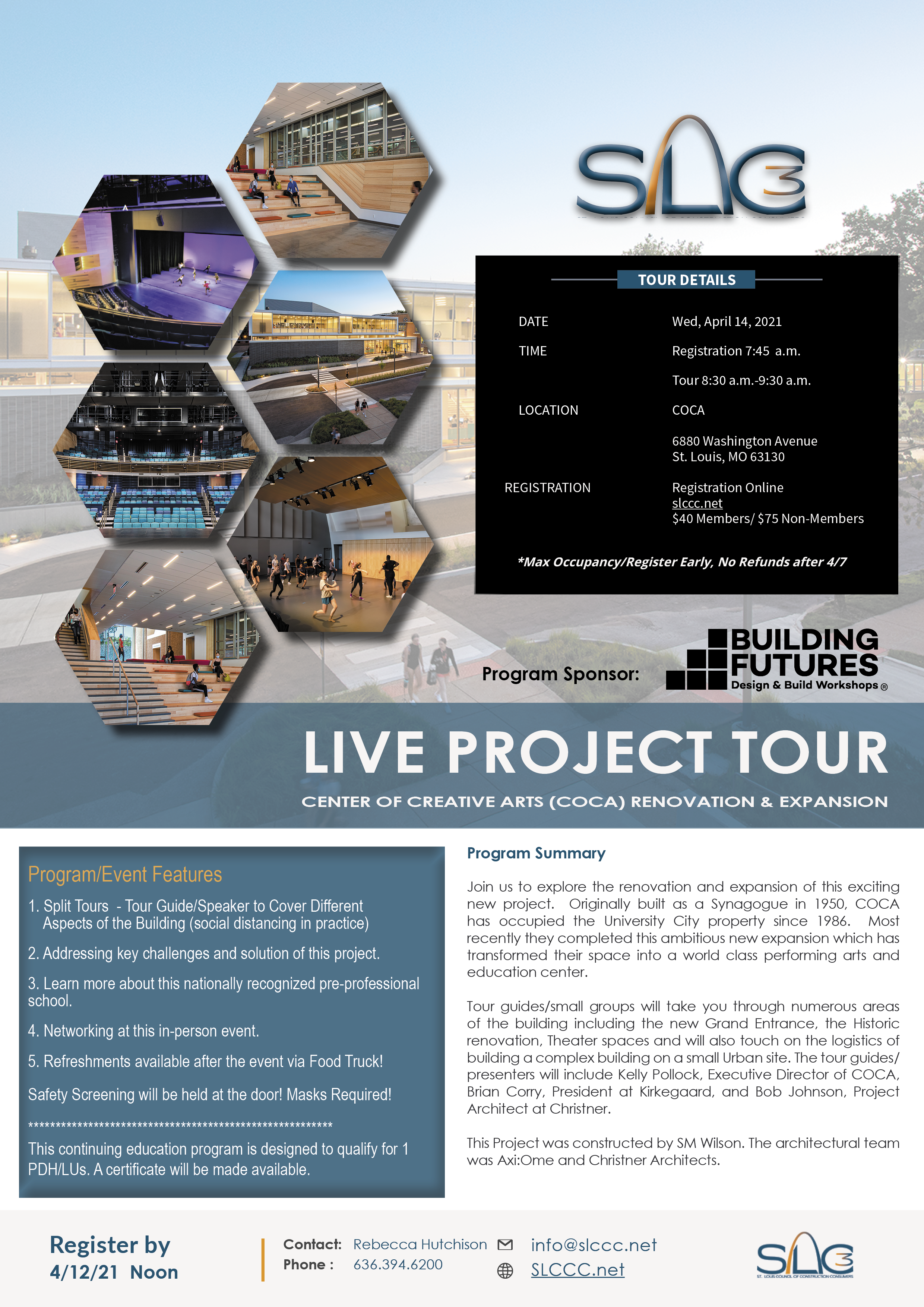 COCA Project Tour (Live)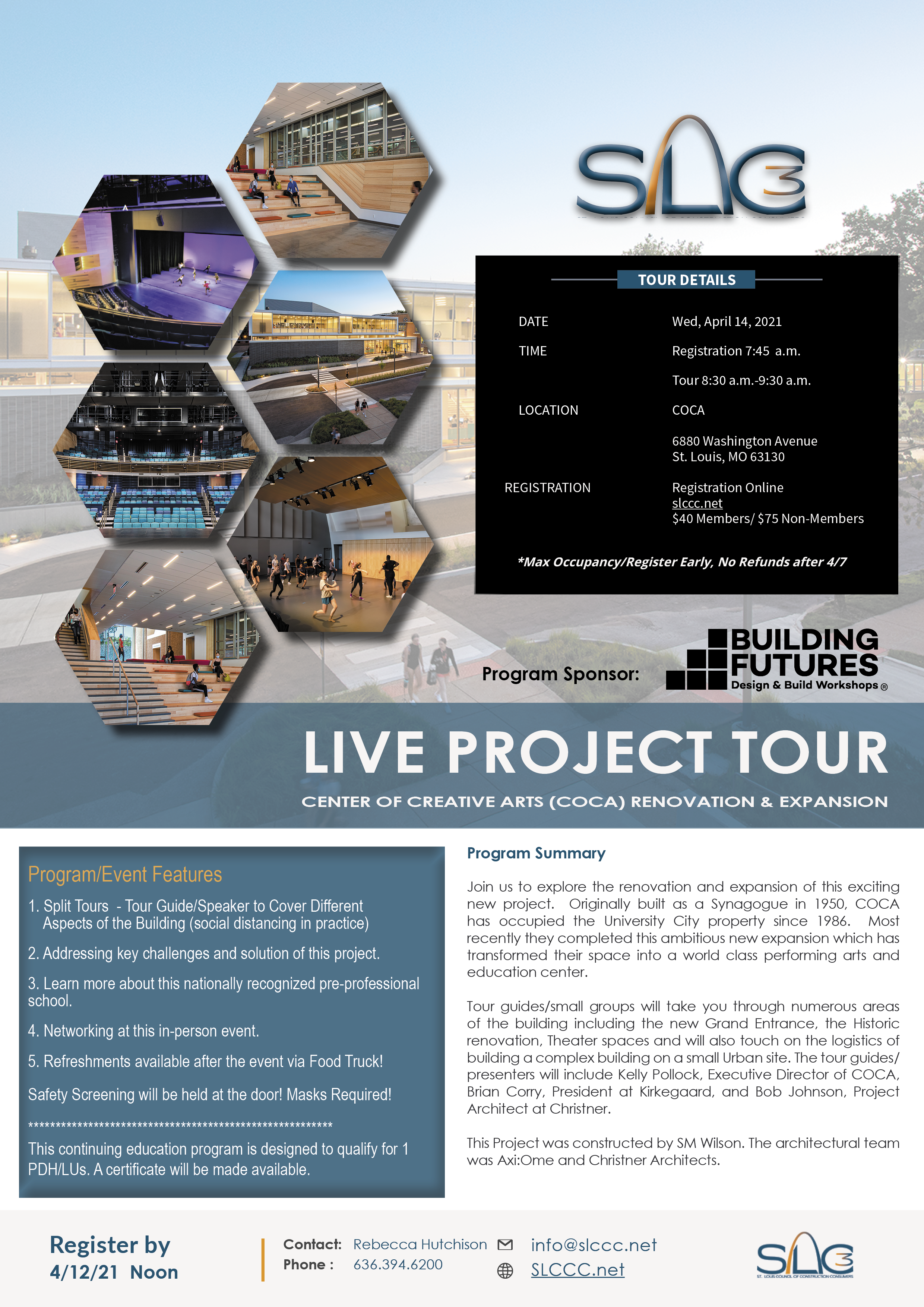 Click here for PDF.  COCA TOUR 2021
Please join us for our first in-person event of 2020!  Project Tours have been a part of the SLC3 for years.  It's going to be different, but yet we've all adjusted. We are confident we can make this enjoyable and safe for all to attend. We do have a max capacity of 100 attendees so space is limited.
Program Summary
Join us to explore the renovation and expansion of this exciting new project.  Originally built as a Synagogue in 1950, COCA has occupied the University City property since 1986.  Most recently they completed this ambitious new expansion which has transformed their space into a world class performing arts and education center.
Tour guides/small groups will take you through numerous areas of the building including the new Grand Entrance, the Historic renovation, Theater spaces and will also touch on the logistics of building a complex building on a small Urban site. The tour guides/presenters will include Kelly Pollock, Executive Director of COCA, Brian Corry, President at Kirkegaard, and Bob Johnson, Project Architect at Christner.
This Project was constructed by SM Wilson. The architectural team was Axi:Ome and Christner Architects.
Consultant Team
Christner Architects – Assoc Design Architect and Architect of Record; Landscape Architect
Axi:Ome – Design Architect
Front Inc. – Specialty Curtainwall Design Consultant
Schuler Shook – Theatre Consultant
Kirkegaard – Acoustic and Audio – Visual Consultant
BuroHappold – MEP/FP Engineer and Lighting Designer
S.M. Wilson – Construction Manager
EDSI – Civil Engineer
Optimal Engineering Solutions – Structural Engineer
CBB – Traffic Engineer
Dennis Glore – Food Service Consultant (Renovation Only)
Solutions AEC – MEP/FP Engineer (Renovation Only)
THANK YOU TO BUILDING FUTURES FOR SPONSORING THIS PROGRAM! 
Safety Screening:
Our first live event will have every precaution taken to ensure a safe event.  We have a multi-step Covid-19 Safety Plan which includes a pre-screening questionnaire required from all registrants. This form will be sent prior to the event. The form will need to be completed and brought with you for the screeners. They will take the forms and then take your temperatures.  Pre-completed screening questions will speed up the registration process as well as complete the registration process. Attendees will be divided into small groups upon entry which will be found on your name tag.  Refreshments will be available outside and can be taken with you. Of course masks are required at all times and plenty of hand sanitizer will be available as well.
ANNUAL EDUCATION SPONSORS (THANK YOU FOR YOUR SUPPORT!)
PLATINUM – KOZENY WAGNER
GOLD – McGrath & Associates, Ross & Baruzzini, Kwame, L. Keeley
SILVER – Custom Engineering, ABNA Engineering, Kaiser Electric, Farnsworth Group, Hankins Construction, OWH, J.F. Electric