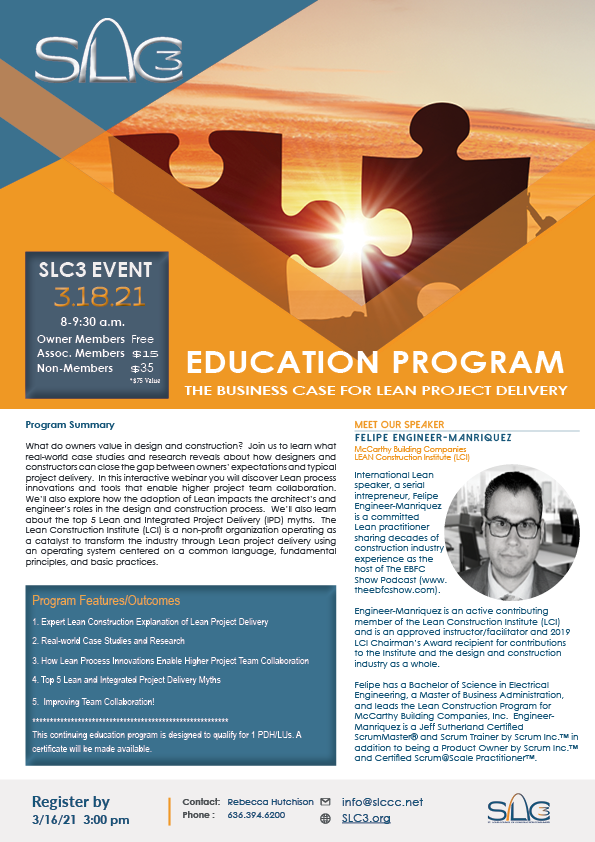 The Business Case for Lean Project Delivery
The Business Case for Lean Project Delivery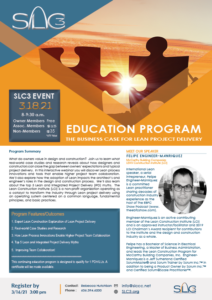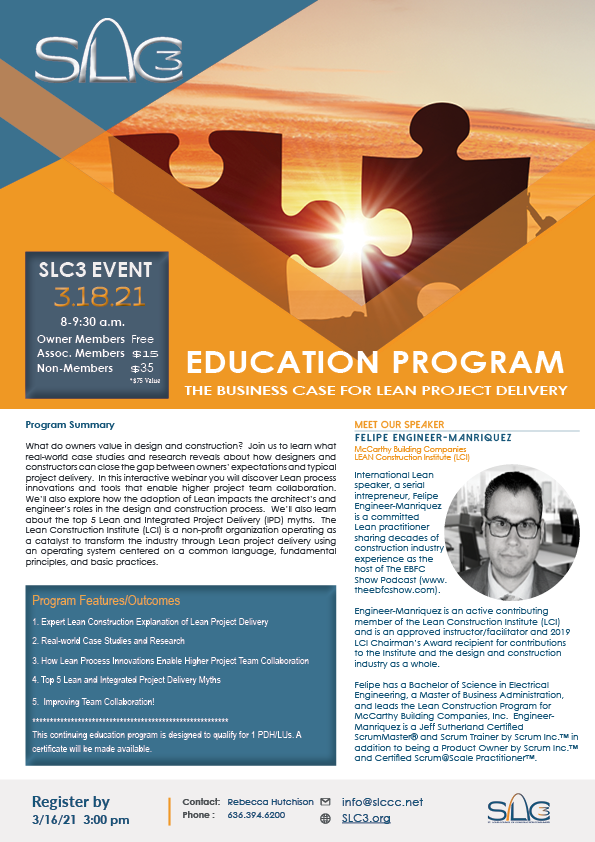 What do owners value in design and construction? Join us to learn what real-world case studies and research reveals about how designers and constructors can do today to close the gap between owners' expectations and typical project delivery. In this interactive webinar you will discover Lean process innovations and tools that enable higher project team collaboration. We'll also explore how the adoption of Lean impacts the architect's and engineer's roles in the design and construction process. We'll also learn about the top 5 Lean and Integrated Project Delivery (IPD) myths. The Lean Construction Institute (LCI) is a non-profit organization operating as a catalyst to transform the industry through Lean project delivery using an operating system centered on a common language, fundamental principles, and basic practices. Learn more at https://www.leanconstruction.org/. Learn more about upcoming LCI St. Louis Community of Practice events here https://www.linkedin.com/company/lci-st-louis-cop.
Program Features/Outcomes
1. Expert Lean Construction Explanation of Lean Project Delivery
2. Real-world Case Studies and Research
3. How Lean Process Innovations Enable Higher Project Team Collaboration
4. Top 5 Lean and Integrated Project Delivery Myths
5. Improving Team Collaboration!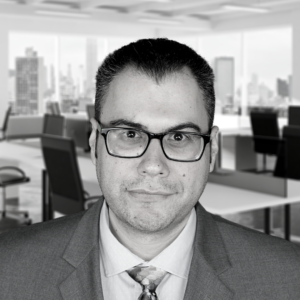 Felipe Engineer-Manriquez (McCarthy Building Companies)
Felipe Engineer-Manriquez's BIO:International Lean speaker, a serial intrapreneur, Felipe Engineer-Manriquez is a committed Lean practitioner sharing decades of construction industry experience as the host of The EBFC Show Podcast (www.theebfcshow.com). Engineer-Manriquez is an active contributing member of the Lean Construction Institute (LCI) and is an approved instructor/facilitator and 2019 LCI Chairman's Award recipient for contributions to the Institute and the design and construction industry as a whole. Felipe has a Bachelor of Science in Electrical Engineering, a Master of Business Administration, and leads the Lean Construction Program for McCarthy Building Companies, Inc. Engineer-Manriquez is a Jeff Sutherland Certified ScrumMaster® and Scrum Trainer by Scrum Inc.™ in addition to being a Product Owner by Scrum Inc.™ and Certified Scrum@Scale Practitioner™. Connect with Felipe on LinkedIn at https://www.linkedin.com/in/engineerfelipe.
Zoom Info:
The Zoom information will be emailed to all attendees the day before the event. We are working on the ability to send you the link when you register for each of our events. But until then, please look for our email! We also send you a calendar invite so you have the information and packet in your invite! Please check with our office should you need information for the event prior to this date. Note, we may not be able to assist you just before or during our event with the link to the event.