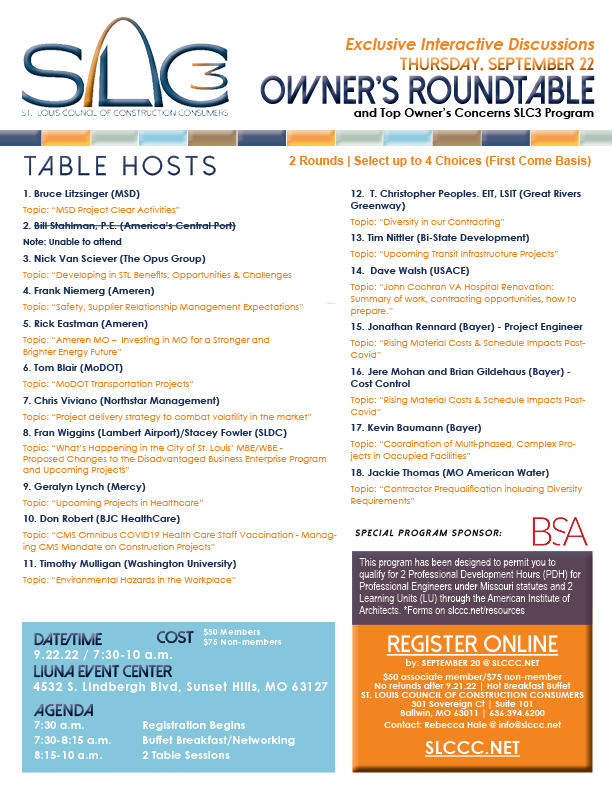 Owner's Roundtable & Top Owner Concerns
PRINT FLYER:
Welcome to our Annual Owner's Roundtable and Top Owner Concerns event.  This popular event is held each year to encourage roundtable discussions with owners and associate members on various owner chosen topics.  This program is designed to be educational. Some of our owners may also share upcoming opportunities, but we cannot guarantee this will be the case with owner hosts you have chosen to sit with.  You may select four top choices for the event and we will make every effort to sit you in your top 2 choices.  Early registration will help you secure your top choices.
The event registration is at 7:30 a.m.  and breakfast is immediately served and available until 8:15 a.m. From 8:15-10 a.m. the program will begin. We will have two rounds of table discussions.  Each attendee must be seated at the table they were assigned to. The host will have a list of table attendees and request a roll call. If you choose to sit elsewhere you are likely sitting in someone else's spot and forcing them to sit elsewhere. Please be respectful and sit as assigned.
There are no Covid restrictions for this event. However, we request that you not attend the event if you are feeling unwell.  You may send someone else in your place as long as you let the Rebecca Hutchison know at least one day before the event you have a replacement.
Program Sponsor: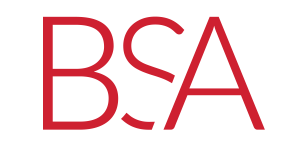 SELECTIONS:
Please include your table preferences in order and BY NUMBER when registering. For example: (1, 3, 20, 19).  If you do not provide this information you will be assigned.
Please contact Kelly Jackson at kjackson@slccc.net with any questions about assignments.  For registration questions please contact Rebecca Hutchison Hale at rhutchison@slccc.net.
The Owner Member ticket sales has ended!
The Owner Non-Member ticket sales has ended!
The Associate Member ticket sales has ended!
The Associate Non-Member ticket sales has ended!
The Retiree/Student/Unemployed ticket sales has ended!