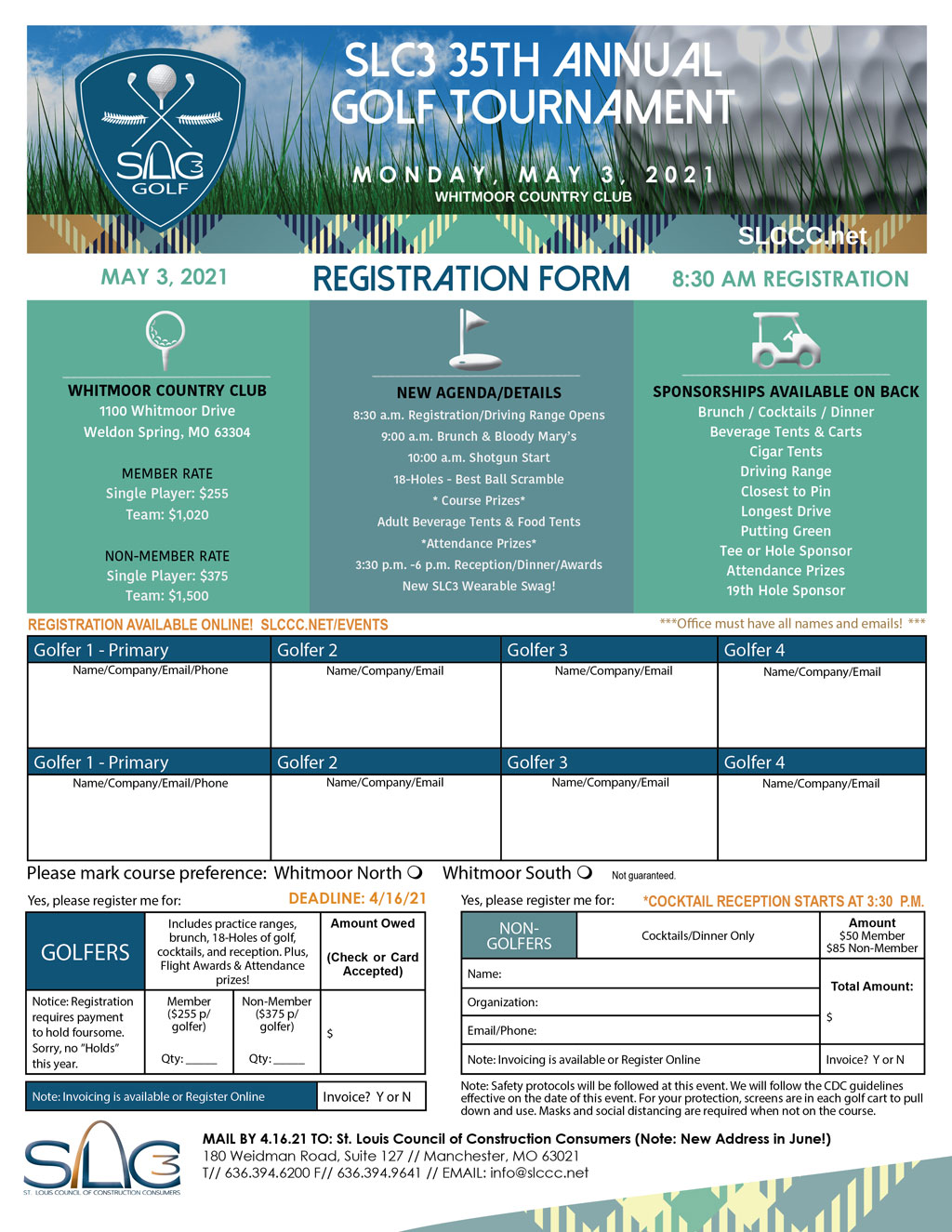 35th Annual Golf Tournament and Dinner (SOLD OUT)
Description:
We are so excited for to you to join us for the 35th Annual Golf Tournament at Whitmoor Country Club.   The first 32 teams to send in paid registration will be eligible for an early registration prize presented at dinner. We are adding special prizes this 50th year as a premier member organization. We do have a cap of 304 total golfers and have had waiting lists! Paid registration is required to hold your spot and also to be entered for the prize.  A max of 3 teams allowed per company to allow for more participation. Names must be submitted by April 16th.  Please complete the form and return it to us at info@slccc.net.   Or you can register below.  Payment can be made by paying an invoice sent to your email or registration below.  If wanting to pay by credit card, note you can pay it directly per the invoice.  Our event continues to not require any cash the day of the event! No mulligans, raffles, etc. We keep it simple and hassle free!  When you arrive you will be screened at check-in and pick up your name tag and registration gift. Brunch will ready at 9 a.m.
Safety Protocols:
All attendees are required to wear masks inside at all times.  Outside we ask that you wear your masks when mingling in crowds and at registration. Pre-screening will occur at registration for golfers and at the volunteer orientation.  This will involve the following questions:  1. Have you received your second vaccination and completed the two weeks since the last shot? 2. If not, have you become in contact or believe to be exposed to Covid-19? 3. Have you traveled in the last ten days by airplane?  If you answer year to 2 or 3, you will not be eligible to participate for safety reasons.  The event is entirely outdoors except for the volunteer and sponsor orientations pre registration and use of the bathrooms.  Wearing masks in the golf carts are at your discretions. All carts are equipped with screens to pull down.
VOLUNTEERS
We are grateful to all the volunteers who help to support our event. We need at least 40 volunteers to pull our event off.  The tasks include setting up for the event prior to registration, registration volunteers, course volunteers, dinner set up, photographers, and safety.  Our volunteers can stay for the day or spend a couple of hours, whatever you can do we will find the best spot for you!  All food and refreshments and provided to volunteers.  Note, volunteers must be members of the SLC3.  If you are not a member of the SLC3 and would like to participate we encourage you to consider one of our sponsorships, such as a cart or tent.Our sponsors are welcome to join us for brunch and dinner! This is one of the best networking events of the year so we hope it's a win, win for our volunteers too! Volunteers please sign up below or by emailing Rebecca Hutchison at rhutchison@slccc.net.
GOLF COMMITTEE
We would like to thank the Golf Committee for their support.
Chair: Tom Estrel (Bunge) / Co-Chair: David Kehm (Christner)
Members:
Rowena Amelung / Nick Arb / Ryan Brandt /Jeanie Brewster / Kevin Cook / Ron Covarrubias / Curt Crossley /  Kurt Gildehaus / Jeff Haberberger / Mike Hanner / Armand Harpin / Shane Harris / Pamela Hobbs / Mark Hubbs / Todd Jacobs / Mike Kozeny / Dean Lakey / Jeremy Lammers / Michael McAuliffe / Jane Megown / Ken Naumann / Joe Sharamitaro / Connie Weil / Mark Winschel
Staff:
Kelly Jackson (Executive Director) / Rebecca Hutchison (Event Coordinator)
SLC3 35th Annual Golf Tournament & Dinner (Prizes/Winners)
WINNERS
1st Place – A Flight (North Course): Joe Sharamitaro, Justin Zeh, Eric Youngblood, Jim Haferkamp (Score: 57) – Prize ($125 Gift Certificate to Whitmoor Pro Shop for each member)
1st Place – B Flight (North Course): John Stiffler, Mark Felts, Tom McNeil, Jerry Donovan (Score: 67) – Prize ($125 Gift Certificate to Whitmoor Pro Shop for each member)
1st Place – A Flight (South Course): Tim Green, Kyle McKenna, Frank Jacobs, Steve Muehling (Score: 61) – Prize ($125 Gift Certificate to Whitmoor Pro Shop for each member)
1st Place – B Flight (South Course): Scott Layton, Lowell Kircher, Nick Welland, Dan Close (Score: 69) – Prize ($125 Gift Certificate to Whitmoor Pro Shop for each member)
2nd Place – A Flight (North Course): Ben Blackman, Mike Lutz, Matt Haddox, Joe Young (Score: 57) – Prize ($75 Gift Certificate to Whitmoor Pro Shop for each member)
2nd Place – B Flight (North Course): Ali Waqar, Jason Rogers, Anna Bellavia, Ryan Brandt (Score: 67) – Prize ($75 Gift Certificate to Whitmoor Pro Shop for each member)
2nd Place – A Flight (South Course): Tim Decker, Andrew Grosman, Todd McFall, Rick Sanders (Score: 61) – Prize ($75 Gift Certificate to Whitmoor Pro Shop for each member)
2nd Place – B Flight (South Course): Doug Brewer, Mark Northruo, Mark Brewer, Bill Hensen (Score: 69) – Prize ($75 Gift Certificate to Whitmoor Pro Shop for each member)
Highest Score – Amanda Payne, Devin Gates, Chad Schrand, Nancy Rodney – Prize (AB 4 Cases – Sponsored by AB (Adam Bova)
HOLE CONTESTS
North Course:
Closest to Pin:  Vince Bajardi #3
Nick Knobbe #6
Longest Drive Ladies:  Connie Weil #12
Longest Drive Men: Joe Sharamitaro #12
South Course:
Closest to Pin:  Casey Arcese #8
Nick Bievenue #14
Longest Drive Ladies:  Courtney Dunbar #12
Longest Drive Men: Larry Spink(sp?) #12
Putting Contest (TJ Wies Sponsored)
N1A Bernie Burch (McCarthy)
N11B Rob Conigro (Kozeny Wagner)
N13A Kevin Grezescowski (L. Keeley)
S6B Kurt Ohcau (Bunge)
DRAWINGS
Epic Driver – Emma McGown
$500 Cash Prize – Darren Schurbusch
19th Hole Contest ($50 Gift Certificates to Whitmoor Pro Shop Qty 4) – Kyle Ricky (JF Electric)
1st to Register Prize – ACME
Registration – (Drawing from first 32 teams – ($50 Gift Certificates to Whitmoor Pro Shop Qty 4) – Craig Spidle