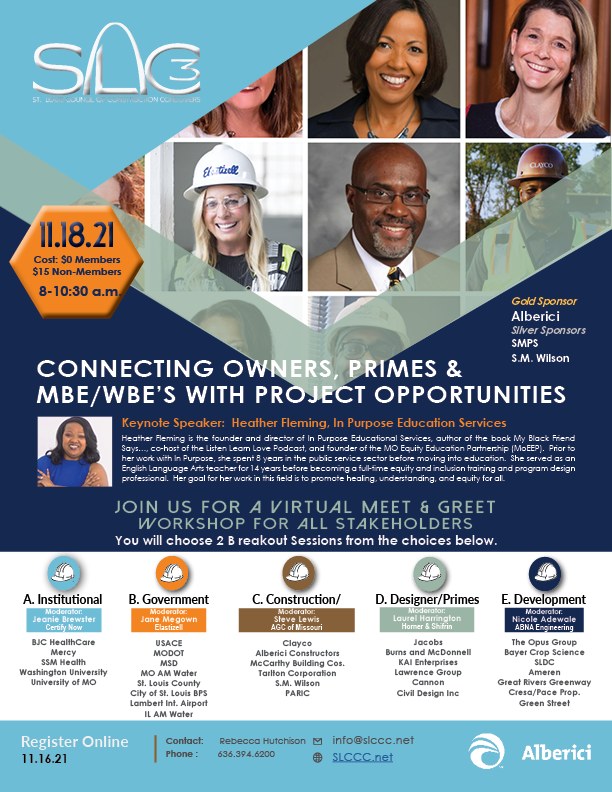 SLC3 Connecting Owners, Primes, and M/WBE's with Project Opportunities Workshop
Agenda: 
The SLC3's Annual Diversity Workshop will be again hosted virtual this year to allow for greater participation.  Many owners are still unable to be in large crowds. However, this year the labeling is a bit different as the SLC3 desires to capture a wider array of participants from owners to all suppliers regardless of M/W/DBE certification.  Owners from Ameren, MSD, Washington University, Mercy, SSM Health, BJC, Bayer, and more will be sharing future work as well as how best to connect with them on projects. The same for prime design firms and general contractors. Sub-consultants and subcontractors work on teams with primes and need to build relationships for project work.  This event is a perfect opportunity to connect, gain knowledge on opportunities ahead, some marketing training as well as M/W/DBE presenter opportunities to key decision makers. An event not to be missed!  The 2.5 hour event kicks off with session 1 then the general session, followed by session 2 and ends with a 30 minute networking slot.  Register and spread the word. Zoom link is sent out with registration. Notice: Presented speakers and panelists have agreed to participate to support the mission of the SLC3 and the region's community. We apologize should one of our speakers be unable to participate. Notice will be given when at all possible. You will also be placed with your top two choices.
Take Aways: Each participant will receive a packet containing contact information from participating panelists as well as their project opportunities.  Two sessions can be selected for the Workshop. SMPS St. Louis is presenting a marketing mini-workshop during the general session. A full list of participants will also be made available on our blog after the event.
Our Keynote Speaker: Heather Flemming (In Purpose Educational Services)
 "Planting Trees: Creating the Future We Want to See"
Bio:
Heather Fleming is the founder and director of In Purpose Educational Services, author of the book My Black Friend Says…, co-host of the Listen Learn Love Podcast, and founder of the MO Equity Education Partnership (MoEEP).  Prior to her work with In Purpose, she spent 8 years in the public service sector before moving into education.  She served as an English Language Arts teacher for 14 years before becoming a full-time equity and inclusion training and program design professional.  Her goal for her work in this field is to promote healing, understanding, and equity for all.
Thank you to Alberici for their sponsorship Gold Sponsorship as well as S. M. Wilson and SMPS for your Silver Sponsorship!
The Members - Free ticket sales has ended!
The Non Member - $15 ticket sales has ended!