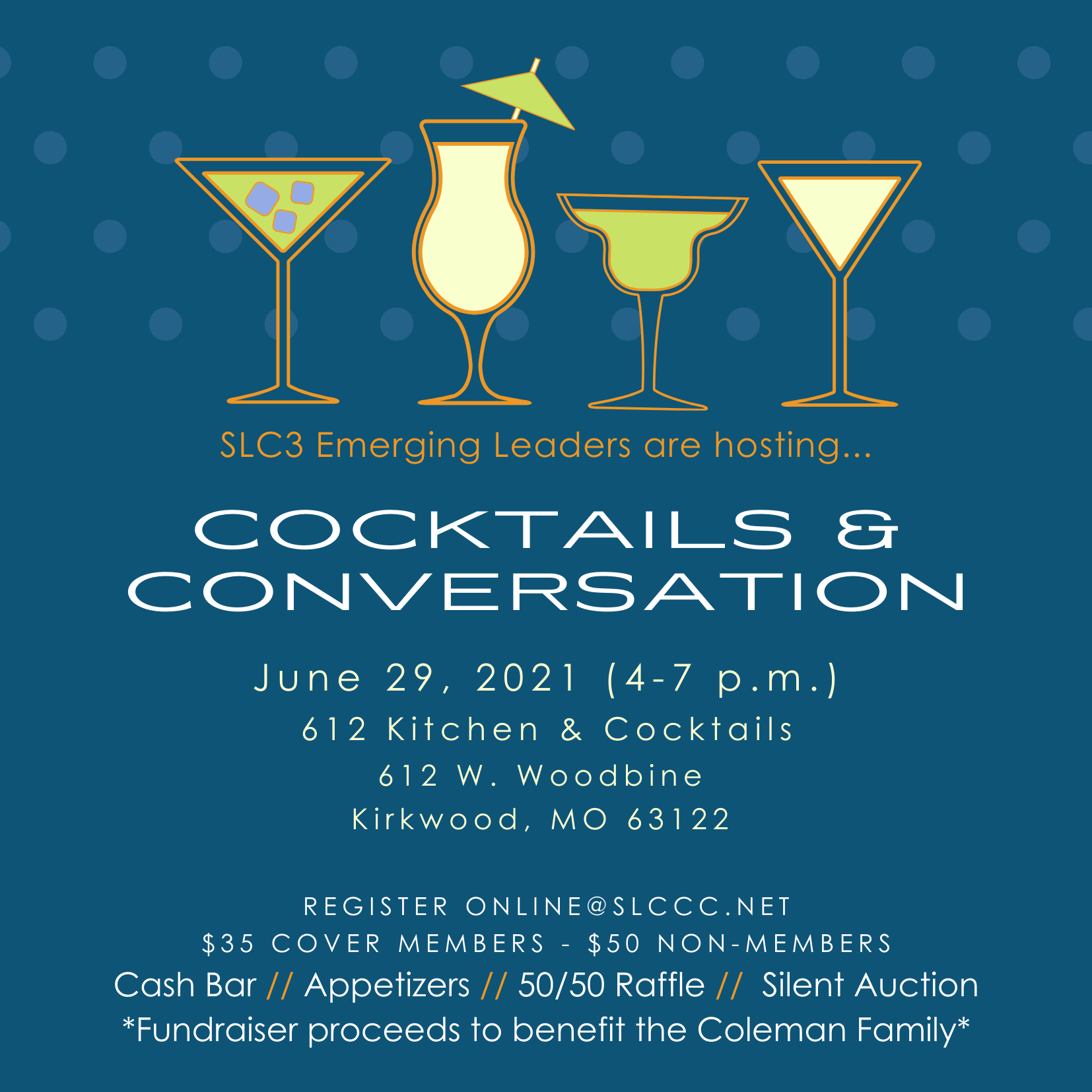 SLC3 Emerging Leaders Cocktails & Conversation Happy Hour
Welcome to our first Emerging Leaders hosted Cocktails and Conversation Happy Hour.  We are excited to offer a networking event for all! Members and non-members and everyone at all stages of their careers too!  We also are hosting a fundraiser with this event.
Coleman Fundraiser Story:
Barb Cox (Formerly Coleman) is with SSM Health and our Secretary of the Board. Last Mother's Day her brother (Dan Coleman) and family were in a boat explosion in Atlanta. All family members were injured, but will all survive. Two children however sustained serious injuries with Steve's daughter having extensive burns all over her body and very long road to recovery. We wanted to create an event for us to spend some much needed networking time together, but also show support to Barb and Dan's family at this time. Barb has been a substantial leader within the SLC3 for years and we would love for our membership to show support while enjoying some GREAT CONVERSATION! Note, Steve Coleman also works for Wiegman Associates.  Wiegman is a supporter of the SLC3. We are also happy to collect donations for the Coleman family so that 100% goes to the family.  We will have a door prize, raffle, and a silent auction (supporting the SLC3). Want some new SLC3 gear? Well we are auctioning some gear and other fun stuff! Appetizers included. 1 drink ticket! Cash bar.
Links about the accident:
https://www.cbs46.com/news/family-recovering-after-mothers-day-boat-explosion-at-lake-lanier/article_e5fbe3b6-b2a2-11eb-81ab-cb03e4ef1b3a.html
https://www.ajc.com/news/gwinnett-teens-critically-injured-but-family-survives-boat-explosion-on-lake-lanier/ZEZS2BYVRFE7DH37MKZVYS474I/
Emerging Leaders:
Emerging leaders is a subcommittee newly formed under the Membership Committee.  The purpose is to bring together a community of emerging leaders at all facets of their career from starting out in his/her career to starting to take on leadership roles. The SLC3 acknowledges we must reach out to future leaders as well as those taking on more responsibilities in their professions.  This community will contribute to our overall events and activities. Events are likely to be networking focused, which we are all ready for!  Please see the committee Chair: Brandy Scheer (Scheer Resources) if interested in the committee.  brandy@scheerresources.com or 314.941.3449.