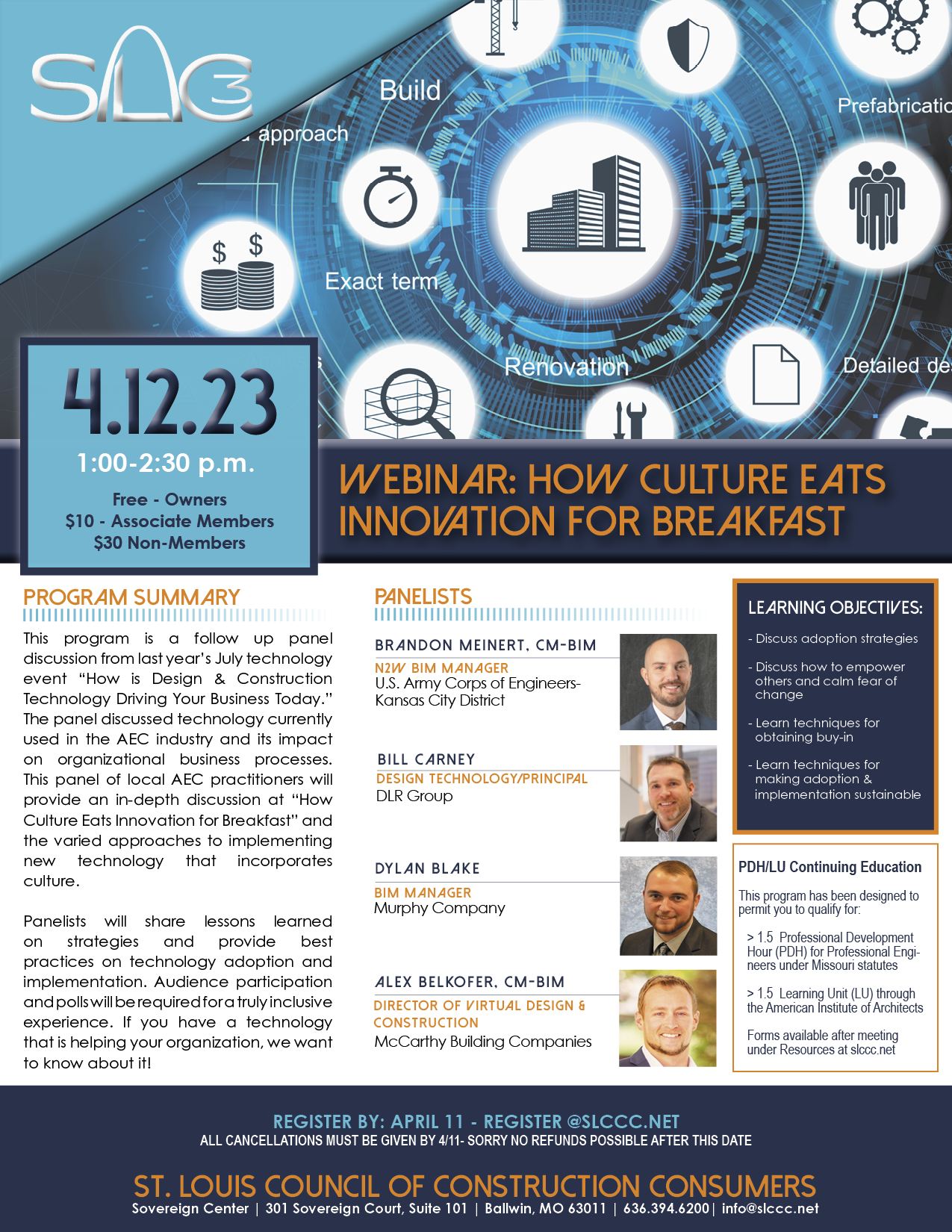 Webinar: How Culture Eats Innovation for Breakfast
This program is a follow up panel discussion from last year's July technology event "How is Design & Construction Technology Driving Your Business Today." The panel discussed technology currently used in the AEC industry and its impact on organizational business processes. This panel of local AEC practitioners will provide an in-depth discussion at "How Culture Eats Innovation for Breakfast" and the varied approaches to implementing new technology that incorporates culture. 
Panelists will share lessons learned on strategies and provide best practices on technology adoption and implementation. Audience participation and polls will be required for a truly inclusive experience. If you have a technology that is helping your organization, we want to know about it!
Learning Objectives:
Discuss adoption strategies
Discuss how to empower others and calm fear of change
Learn techniques for obtaining buy-in
Learn techniques for making adoption & implementation sustainable
Panelists
Brandon Meinert, CM-BIM (N2W BIM Manager, U.S. Army Corp of Engineers-Kansas City District
As a technical specialist for the U.S. Army Corps of Engineers, Brandon is responsible for leading and supporting the use of advanced modeling technology, training & mentoring staff, performing quality management on all project deliverables, and ensuring all advanced modeling processes happen in parallel to support the project lifecycle.
Bill Carney (Design Technology/Principal, DLR Group)
As DLR Group's Design Technology leader my focus is global to work with the Integrated Design Leadership to establish and execute strategies that will help enhance our BIM and digital design technology teams to ensure the work delivered by our teams is done so on the cutting edge of AEC standards and practices.
Dylan Blake (BIM Manager, Murphy Company)
Dylan is the BIM Manager at Murphy Company Mechanical Contractors & Engineers.  He is an experienced Fabrication Engineer with a demonstrated history of working in the construction industry. Skilled in AutoCAD, Plumbing, Computer-Aided Design (CAD), Project Estimation, and SolidWorks. Strong operations professional with a Bachelor of Engineering – BE focused in Mechanical Engineering from Missouri University of Science and Technology.
Alex Belkofer, CM-BIM (Director of Virtual Design & Construction, McCarthy Building Companies)
As a regional leader and national collaborator at McCarthy, Alex is responsible for the overall strategy, implementation, and execution of the virtual design and construction (VDC) lifecycle process between all project stakeholders. The VDC Team promotes, trains and guides McCarthy Project Teams through VDC processes/practices over the course of a building's design and construction lifecycle.
Thank you to our annual sponsors:
Annual Platinum Sponsor again this year is Kozeny Wagner.  
Gold Sponsors are McGrath & Associates, Ross & Baruzzini, Kwame Building Group and Keeley Construction.
Silver sponsors are Farnsworth Group, Kaiser Electric, JF Electric, ABNA Engineering, OWH Architects, Ameren, Custom Engineering and Husch Blackwell.
Bronze sponsors are Brinkmann Constructors, Driving Change, and Midwest Monograms Promotions.