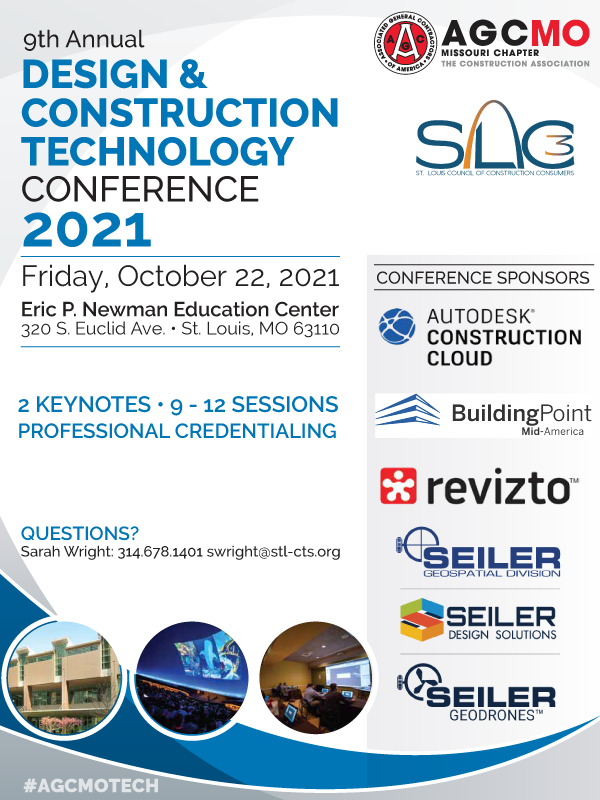 Design and Construction Technology Conference (DCTC)
CLICK HERE for Sponsor/Exhibitor Opportunities
CLICK HERE for Event Registration – Note: Please select SLC3 when registering where you learned about the conference.
SAFETY UPDATE
Parking will now be available to everyone attending the conference in the Metro Garage across the street from EPNEC. Please read the attached flyer for parking/validation instructions.
Video Production by Herbig Drones, https://www.herbigdrones.com
Conference Theme: Project Lifecycle
The 9th DCTC will focus on the value technology brings to the overall 'Project Lifecyle' of building design and construction. Four focus areas will guide attendees through the various stages of project delivery, along with hands-on learning labs for in-depth process and tool focus.
Planning & Design: Early Collaboration, Virtual Reality, Design Integration, 3D Printing, Automation

Precon & Construct: 3D Coordination, Augmented Reality, 4D Sequencing, UAVs/Drones, Reality Capture
Handover & Operate: BIM to FM, Big Data, Model Handover, BIM Standards
Strategy: Adoption, Diversity, Trends, Research

Learning Labs: Bluebeam, Navisworks, Revit, Dynamo
Opening Keynote Speaker

Phillip G. Bernstein FAIA, RIBA, LEED ® AP
Phil Bernstein is an architect, technologist and educator. He is an Associate Dean and Senior Lecturer at the Yale School of Architecture where he received both his B.A. and his M.Arch. He was formerly a Vice President at Autodesk where he was responsible for setting the company's future vision and strategy for technology, as well as cultivating the firm's relationships with strategic industry leaders and associations.
Prior to Autodesk, he was a principal with Pelli Clarke Pelli Architects. His books include Architecture | Design | Data – Practice Competency in the Era of Computation, Building (In) The Future:  Recasting Labor in Architecture and BIM In Academia. He is a Senior Fellow of the Design Futures Council and former Chair of the AIA National Contract Documents Committee.
Closing Keynote Speaker

Steve Burrows, CBE
Steve Burrows is an experienced executive and a professional engineer. He was on the Board of Arup, led AECOM's Building Engineering Business in the Americas and WSP's US Buildings Business. He then joined Katerra where he was an executive responsible for engineering across the firm. He is known for his projects including the Bird's Nest Stadium and Apple Campus.
Steve is also passionate about AEC as a career and so is a regular speaker on radio, podcasts and print media, as well as making TV shows such as Time Scanners and the IMAX movie Dream Big. He was awarded the Brunel Medal in 2004, was made a Commander of the British Empire by Her Majesty the Queen in 2009 and was awarded an Honorary Fellowship by his alma mater in 2018.
He considers the technological disruption of AEC to make this the greatest time in history to be in this industry, and he remains active with several start-up companies seeking to disrupt construction.
Pricing:
Early Bird (up to 2 weeks prior to event): $125.00 per registration
Regular Registration: $150.00 per registration
ONLINE Registration Closes Thursday, October 14, 2021. Contact Nancy Lake, 314-644-1525, nlake@stl-cts.org, for registration after 10/14/2021. NOTE: The SLC3 cannot take registrations. Thank you. 
*Registration is refundable if AGC of Missouri is notified prior to the event date (10/22/2021) by contacting Sarah Wright, swright@stl-cts.org 
Join us at the Eric P. Newman Education Center (EPNEC) for the 9th Annual AGCMO Design and Construction Technology Conference, presented in partnership with the St. Louis Council of Construction Consumers (SLC3). The AGC of Missouri (AGCMO) DCTC is a one-day, multi-track conference for A/E/C/O professionals focused on leveraging innovative design & construction technology solutions to address current and emerging issues in the industry. This conference offers networking, learning labs, and engagement opportunities to help break down traditional barriers and inspire collaboration and improved industry performance.
Contact: Sarah Wright, swright@stl-cts.org, 314-644-1401
Parking Options
1) If your preference is to park in a garage and walk to the venue, there are paid parking garage options around EPNEC.
2) Attendee parking included in registration will be offsite in the Muny Upper Parking Lot in Forest Park (Map Below). A Shuttle will run throughout the day between the Muny Upper Parking Lot and the Conference Venue. The Muny Upper Parking Lot is located on Summit Drive. Cross Street: Union Drive
* Shuttles to and from the venue are continuous throughout the conference day. Estimated wait time of approximately 10-15 minutes, if any wait at all.
* Shuttles begin at the Muny Upper Parking Lot at 7:00 AM.
* Introductions begin at 8:15 AM. Be on the shuttle no later than 7:45 AM in order to check in and make it to the opening keynote presentation.
* Questions about shuttle service – 314-747-6338
* See map below for Upper Muny Parking Lot location and route to and from EPNEC.
Conference Sponsors
Exhibitors