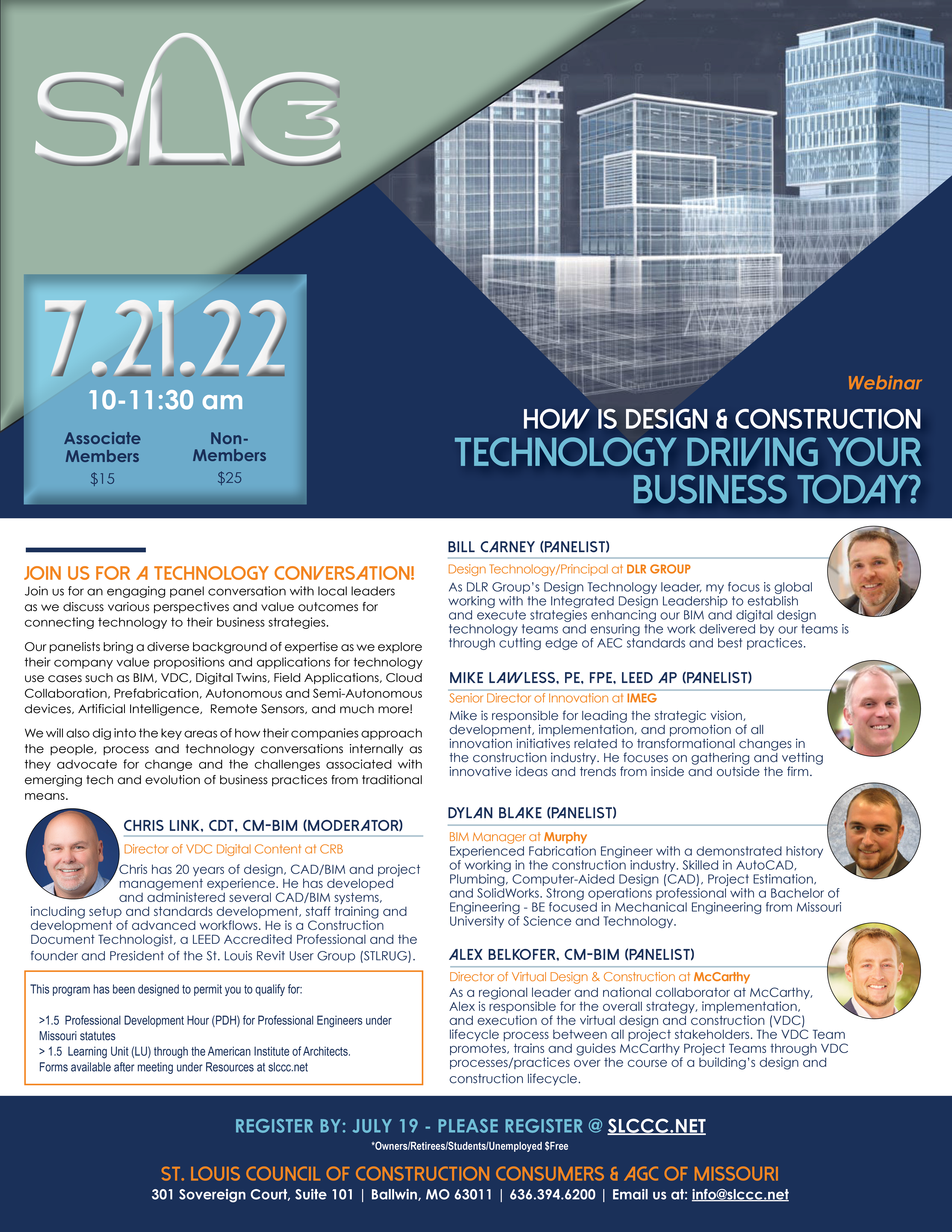 How is Design & Construction Technology Driving Your Business?
Join us for an engaging panel conversation with local leaders as we discuss various perspectives and value outcomes for connecting technology to their business strategies.
Our panelists bring a diverse background of expertise as we explore their company value propositions and applications for technology. Examples include BIM, VDC, Digital Twins, Field Applications, Cloud Collaboration, Prefabrication, Autonomous and Semi-Autonomous devices, Artificial Intelligence,  Remote Sensors, and much more!
We will also dive into the key areas of how their companies approach the people, process and technology conversations internally.  How is change advocated and the challenges associated with emerging tech and evolution of business practices from traditional means.
Chris Link, CDT, CM-BIM – MODERATOR
Director of VDC Digital Content at CRB
Chris has 20 years of design, CAD/BIM and project management experience. He has developed and administered several CAD/BIM systems, including setup and standards development, staff training and development of advanced workflows. He is a Construction Document Technologist, a LEED Accredited Professional and the founder and President of the St. Louis Revit User Group (STLRUG).
TECHNOLOGY PANEL:
Mike Lawless
Director of Innovation at IMEG Corp
Mike Lawless, PE, FPE, LEED AP, is Senior Director of Innovation for IMEG Corp. He is responsible for leading the strategic vision, development, implementation, and promotion of all innovation initiatives related to transformational changes in the construction industry. He focuses on gathering and vetting innovative ideas from inside and outside the firm to ensure IMEG invests its resources wisely and acts proactively to changing AEC industry needs and trends. This allows the firm to deliver the most innovative solutions to clients, ultimately providing the best outcomes for end users. A 20-plus-year employee-owner and mechanical engineer, Mike has led many of IMEG's largest healthcare and science & technology projects. He is a member of ASHRAE, ASHE, and SFPE, has received several ASHRAE Technology Awards for innovative design, and was named one of ENR Midwest's 20 Under 40 in 2015.
Dylan Blake
BIM Manager at Murphy
Dylan is the BIM Manager at Murphy Company Mechanical Contractors & Engineers.  He is an experienced Fabrication Engineer with a demonstrated history of working in the construction industry. Skilled in AutoCAD, Plumbing, Computer-Aided Design (CAD), Project Estimation, and SolidWorks. Strong operations professional with a Bachelor of Engineering – BE focused in Mechanical Engineering from Missouri University of Science and Technology.
Bill Carney
Design Technology Leader | Principal at DLR Group
As DLR Group's Design Technology leader my focus is global to work with the Integrated Design Leadership to establish and execute strategies that will help enhance our BIM and digital design technology teams to ensure the work delivered by our teams is done so on the cutting edge of AEC standards and practices.
Alex Belkofer
Director of Virtual Design & Construction at McCarthy
As a regional leader and national collaborator at McCarthy, Alex is responsible for the overall strategy, implementation, and execution of the virtual design and construction (VDC) lifecycle process between all project stakeholders. The VDC Team promotes, trains and guides McCarthy Project Teams through VDC processes/practices over the course of a building's design and construction lifecycle.
The Associate Member ticket sales has ended!
The Non-Member (Guest) ticket sales has ended!
The Owner Member ticket sales has ended!
Speakers
Kelly Jackson (Exec. Director)