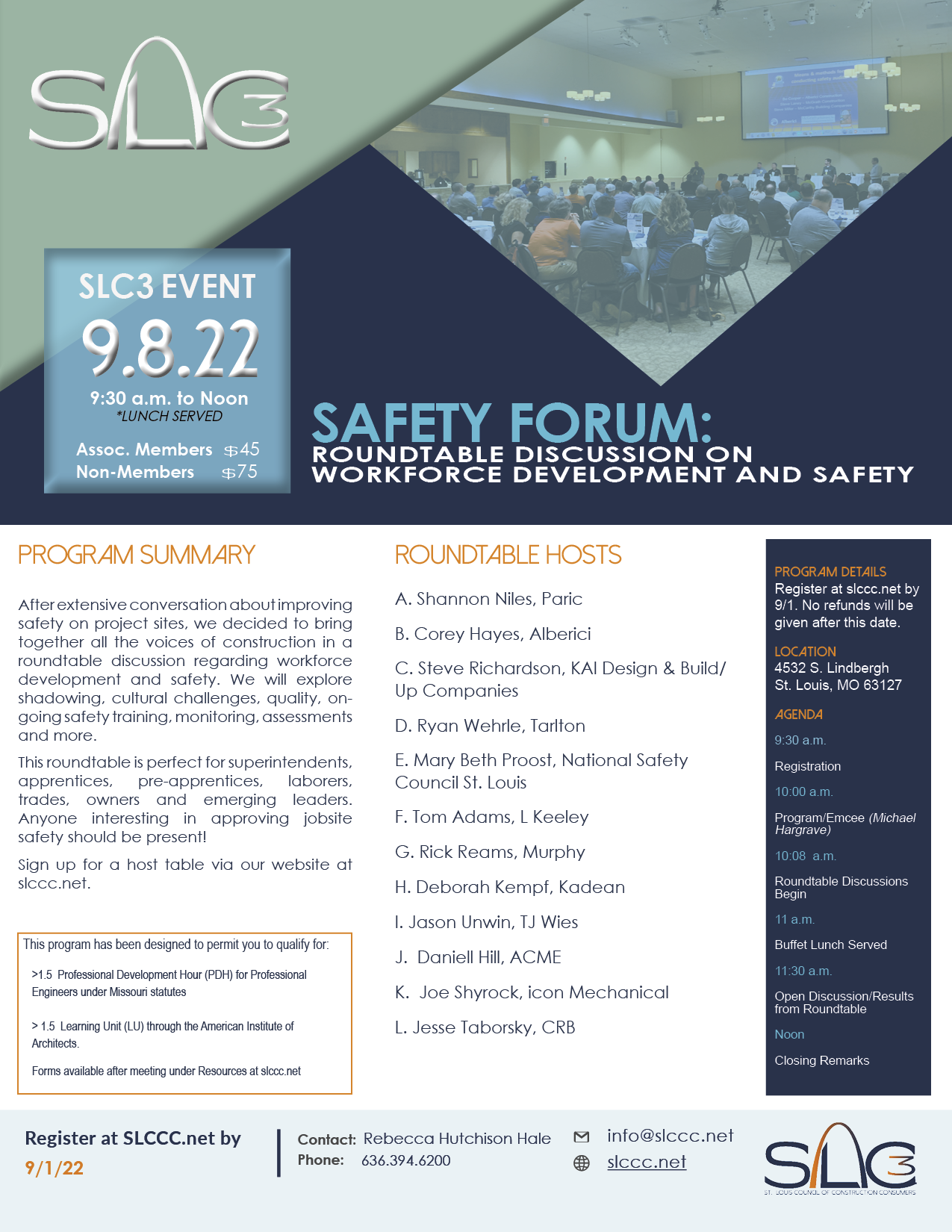 Safety Forum: Workforce Development
After extensive conversation about improving safety on project sites, we decided to bring together all the voices of construction in a roundtable discussion regarding workforce development and safety. We will explore shadowing, cultural challenges, quality, on-going safety training, monitoring, assessments and more.
This roundtable is perfect for superintendents, apprentices, pre-apprentices, laborers, trades, owners and emerging leaders. Anyone interesting in approving job site safety should be present! 
Please select your top 2 choices for hosts (by letter only).
We will match up as best as possible for your preference.  Note, all attendees will be seated at one table for this roundtable discussion event.  Discussion is from 10-11 a.m. and lunch will be served. We will finish with sharing what we learned in the discussions. 
Roundtable Hosts:
A. Shannon Niles, Paric
B. Corey Hayes, Alberici
C. Steve Richardson, KAI Design & Build/  Up Companies
D. Ryan Wehrle, Tarlton
E. Mary Beth Proost, National Safety Council St. Louis
F. Tom Adams, L Keeley
G. Rick Reams, Murphy
H. Deborah Kempf, Kadean
I. Jason Unwin, TJ Wies
J.  Daniell Hill, ACME
K.  Joe Shyrock, icon Mechanical
L. Jesse Taborsky, CRB
Note: 
We will have refreshments at 9:30 upon registration/networking.  At 11 a.m. we will serve lunch. 
The Owner Member ticket sales has ended!
The Owner Member - Non Complimentary ticket sales has ended!
The Associate Member ticket sales has ended!
The Non-Member (Trades Partner) ticket sales has ended!
The Non-Member Associate ticket sales has ended!
The Student/Retired ticket sales has ended!
Speakers
Kelly Jackson (Exec. Director)